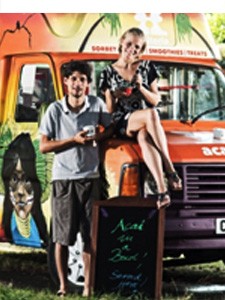 Jadwiga Cwynar & Lucas Dalle Prane
– Acaiteria
Setting up your own business is a dream for many and creating a brand that is unusual and memorable is challenging. Outset Bournemouth clients Jadwiga Cwynar and Lucas Dalle Prane have achieved both!
28-year-old Jadwiga is originally from Poland and studied marketing at Aberystwyth in Wales before moving to Bournemouth after living in Bristol. She set up the business with her business partner, Brazilian born Lucas Dalleprane, who works on the IT, website design and search engine optimisation. Jadwiga looks after sales and marketing.
Inspired during a Brazilian holiday to the Amazon where they spotted a berry called acai, this young, entrepreneurial business partnership hatched their business plan. Acai is a berry with a rich taste, similar to dark chocolate, that provides a wide range of health benefits – affecting energy levels, mental function, skin, heart, anti-aging and weight loss. Jadwiga & Lucas explored the viability of producing and selling alternative and healthy treats made with acai in the UK.
After being referred to Outset Bournemouth and meeting with an advisor, they signed up for the Business Start Up programme. Mike Slaughter, Finance Advisor is delighted with the support Outset Bournemouth have been able to offer: "When Jadwiga & Lucas first came to us, they had big business plans and ideas but we found what was lacking was valuable market research. We were able to guide them, through intensive one-to-one mentoring, and using the Innocent Drinks model, to really know their market and define their proposition. In addition, were able to define their cash flow and financial planning." He continues: "By using the research and helping them to find essential financial backing, their idea of establishing a café evolved into the mobile facility they are successfully using today."
Jadwiga is in no doubt that the support from Outset has transformed their business: "We have found the advice and assistance priceless in formulating our business plan from our original idea to actually setting up trading."
Outset has also enabled Acaiteria to secure a loan from South West Microcredit Fund, the Competitiveness European Regional Development Fund and the South West Investment Group, who also awarded Acaiteria Business of the Month.
Lucas explains: "Thanks to the advisors at Outset, we had access to finance and we received a loan that helped us to purchase a van, logo design and the branding we needed for our business."
Currently, you can find the funky Acaiteria refurbished ice-cream van at local festivals, events and markets. Their mission is to promote the health benefits of the acai berry by offering delicious sorbets and smoothies to customers, suppliers and local communities. Acaiteria also have website selling acai, nectar, spices and sprinkles, together with providing information and recipes.
For more information about Acaiteria, visit www.acaiteria.co.uk