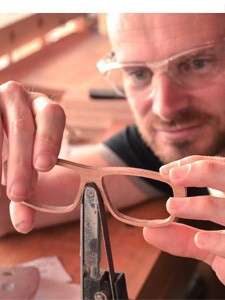 Martin Prothero
– Prothero Eyewear
Martin Prothero originally trained as an engineer before going on to practice as an artist, as well as working in environmental education for many years. When a key contract ended, leaving him unemployed, Martin decided to start his own business, designing and manufacturing high quality wooden spectacle frames by hand.
"I have always loved fine design and working with wood. I wanted to create a lifestyle where I made a living from making beautiful things. I wear glasses and found it difficult to find frames made out of natural products, so I decided to make my own wooden spectacle frames."
When Martin found out about the free business start-up courses offered by Outset Bristol he was keen to get all the help and advice available to him.
"The Outset Bristol business start-up training was extremely useful and invaluable in helping me start my business. It has taken a huge amount of time, far more than I thought, to plan my business and work out how to manufacture my product well."
As well as attending Outset Bristol's Business Start Up course, Martin was referred to Outset Bristol's sister company Outset Finance so that he could secure a £10,000 government-funded Start Up Loan to help with his business start-up costs.
"Outset Finance has given me the financial backing I needed to help me turn my business ideas into a reality. I needed a loan to fund essential manufacturing equipment and the development time for the product. I received guidance on how to put my business plan together and practical support in planning how to take the ideas forward. I am now having regular mentoring."
Martin's beautiful spectacle frames are still in the prototype stage but he has ambitious plans for his new business.
"I want to create highly desirable and beautifully crafted eyewear that connects people to nature. All my products are to be eco-friendly in that they are made of responsibly sourced and recyclable materials. I will start by supplying frames in the UK and plan to do my first European trade shows next year."