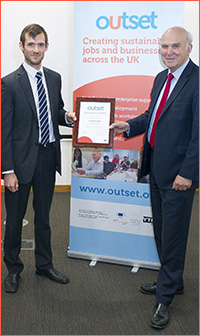 Outset 3,000th business owner, Jonathan Burfoot with Secretary of State for Business, Vince Cable MP.
Success stories
We've supported countless numbers of people in figuring out if self-employment is right for them and helping give them the confidence and skills to get started. Everyone has a unique story but often, they've gone through similar challenges on their journey.
Knowing that you're not alone and that other people have succeeded in getting started can be a big relief so we encourage you to check out some of our success stories below. As you can see, we've had people from all different backgrounds go on to create a really diverse mix of new businesses. It just goes to show that with the right support and determination, you can do it!
Feel inspired by the below?