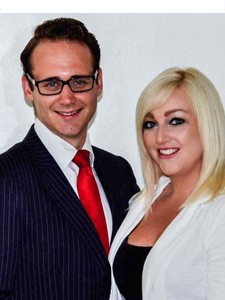 Thomas Moyle & Karly Turner
– Moyle Estates
Working for a company can often highlight how processes could be more efficient or practices improved, inspiring people to make the leap into self-employment and strike out on their own. Outset Cornwall offers practical advice and guidance to these individuals, and now with Start Up Loans available from Outset Finance, the financial support to turn their ideas into reality.
After spending four years working in a local branch of a nationwide estate agency, Thomas Moyle saw an opportunity to do things differently and create a fresh approach to property selling and management.
Keen to draw on his industry experience and utilise his partner Karly Turner's hospitality background, Thomas decided to set up an estate agency of his own, and approached Outset Cornwall for support.
"Looking at how my employer did things, I knew Karly and I could do so much more, especially if we combined my experience with her marketing and customer service skills," says Thomas. "I did some research on new business support and kept coming across Outset Cornwall, so I made contact and everything just flowed from there!"
Meeting an Outset Cornwall advisor and discussing their plans for financing their new venture, Thomas and Karly decided to apply for a Start Up Loan through Outset Finance, official delivery partner of the Government-backed Start Up Loans scheme and sister company to Outset Cornwall.
Thomas says: "When we met our advisor Ian, we knew instantly that Outset was the company we wanted to work with. We found the whole process simple and easy to follow, and Ian was extremely supportive and always available if we needed to contact him."
Having had their loan application approved, Thomas and Karly wasted no time in drawing down funds and implementing their plans, launching their first branch of Moyle Estates in Penzance in September 2014.
Thomas and Karly now plan to grow their business year on year, opening branches in Redruth, Camborne and Truro and developing a successful legacy they can pass on to their sons in the future.
"Initially we came to Outset for funding support, but what we got was so much more than that," says Thomas. "Thanks to Outset Cornwall, we've been able to look at the business more realistically, create a good business plan and get it to the right people. Without them, I really believe we wouldn't have made it to where we are now."